By Dan Baldwin, Editor
951-251-5155 email 
Back "in the day" when there was just one phone company, business owners only had two problems with their single phone bill:
1. Too much money charged for ...
2. Marginally useful phone service
Today any business owner can get super low rates for terrific phone or internet service but a new problem has developed:
1. No provider can service all locations
Today's business owners are faced with the old problem of a single phone & internet provider with high rates and marginal service OR ...
Great rates and terrific service but from dozens of different service providers who all bill separately and can't coordinate with each other.
Not surprisingly most business owners and managers choose to go with multiple providers and hope their internal admin staff can figure out how to manage multiple invoices from multiple vendors for the firm's multiple locations.
Can't This be Outsourced to an Expert at a Decent Price? Yes!
Yes Virginia, Santa Claus lives, he serves free lunch and says "You can have your cake and eat it too!" (In other words, broadband service aggregation and invoice management is possible at an affordable outsourced rate.)
Multi-location broadband aggregation started as soon as DSL service become a popular replacement in the late 1990's for dial-up internet for businesses.
Over time, as DSL has been replaced by 3G/4G/LTE/WiMax, local cable and fiber, experienced internet broadband aggregators that originally specialized in certain regional geographies or services have now grown to be able to handle any service provider anywhere in the USA and beyond.
Watch the following short video to see how one aggregator, Bandwave Systems does business.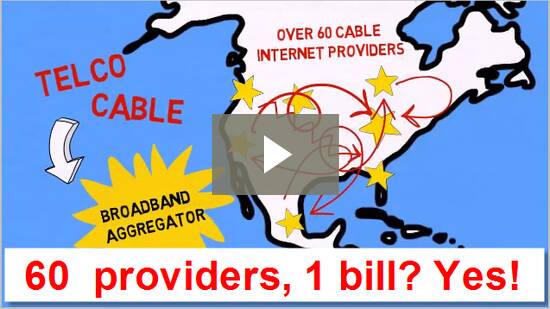 Is Broadband Internet Aggregation Right for Your Business?
Probably ... if you hook up with the right aggregation management company. Some broadband aggregators specialize in cable companies while others specialize in wireless. Other aggregators specialize in matching vertical markets to required online business applications used in that vertical market.
Maybe you need a software solution that lets you aggregate your broadband invoices and management duties in-house. It might be worth taking a look at.
Give us a call at 714-525-8100 to start a conversations with us about which broadband internet aggregation solution is right for your business - if any. 
********************
Interested in licensing this copyright protected content for your email newsletter, blog or website? Please contact [email protected].
Photo credit:  Drowning in bills
Keywords: broadband internet, outsourcing, bandwave systems, aggregator, 3g, 4g, lte, wimax, aggregation solution, cable, fiver, vertical market, dsl, multiple locations,