By Dan Baldwin, Editor
951-251-5155 email 
For the last 23 years I've made it my business to explain to business customers why it was a good idea to evaluate other options if they were unhappy with their service from AT&T.
"Would you like to cut your phone bill in half?"

"Would you like to get your customer service from people who know your business?"

"What's the worst thing that's ever happened to you as an AT&T customer?"
These were the only three questions I would ever really have to ask a small or medium-sized business customer that was getting a phone bill directly from AT&T. The stories practically told themselves.

One question I never asked was, "Did you ever have any problems with the AT&T network?"

I never asked this because in 23 years in the business I've still not met anyone who could say anything bad about AT&T's network. It's great, it works and everyone agrees. 

The perception was that only the AT&T enterprise direct customers got any sort of meaningful 
discounts or personal customer service. Small and medium-sized business customers just didn't 
seem to get the same level of attention as their enterprise counterparts.
Can Businesses Get a "Generic Brand" of the AT&T Network? Yes!
One of the silent weapons in AT&T's arsenal is a subsidiary called ACC Business. When ACC was first rolled out by AT&T, more than a decade ago, there were many fits and starts trying to sell a generic version of AT&T's network to small and medium-sized business customers.
Over the past several years though, ACC, through their independent distribution partners like 
BaldwinTel, have perfected the art of delivering near-perfect customer service at a price that 
comes close to the best in the marketplace for voice and data solutions as well as wide area 
network (WAN) services like MPLS and Ethernet.

What's ACC's secret for success? Simply put, it's their people. Watch the video below to hear 
ACC's President John (J.D.) Baker explain how it's ACC's people that deliver exceptional AT&T 
network experiences to the small and medium-sized business customers of ACC Business 
channel partners like BaldwinTel.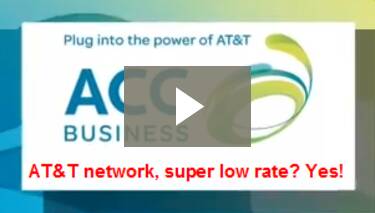 The reason you may have not heard of the "generic version" of AT&T is that ACC Business does 
not have a direct sales force or the marketing budget of their parent company – they only market their services through authorized independent agent & channel partner agents like BaldwinTel.
Is it Time for Your Business to Move Back to the AT&T Network?
If you've had MPLS or Ethernet technical troubles with second-tier voice and data telecom 
providers you should take a look at moving back to the AT&T network.

If you've had trouble saving money with other tier-one telecom carriers on your voice, data and WAN (wide area network) services you should consider the tier-one benefits of the AT&T network when priced through the discount structures of ACC Business.

Give us a call at 714-525-8100 so we can share with you some of the success stories that other small and medium-sized business customers have had when going back to the AT&T network through ACC Business.
*********************
Interested in licensing this copyright protected content for your email newsletter, blog or website? Please contact [email protected].
Photo credit:  Generic pill bottle
Keywords:  AT&T, small business, medium business, phone bill, AT&T network, enterprise customers, generic, ACC Business, John Baker, J.D., direct sales, authorized independent agent, channel partner, MPLS, Ethernet, voice, data, WAN services, wide area network,